Aerofoil Sun Louver
Aerofoil Sun Louver system is widely used in cases where sunlight needs to be blocked straight or at an angle. The product provides a lightweight and soft feel. The Aerofoil Sun Louver system is constructed according to different applications: angled, horizontal, vertical, or combined.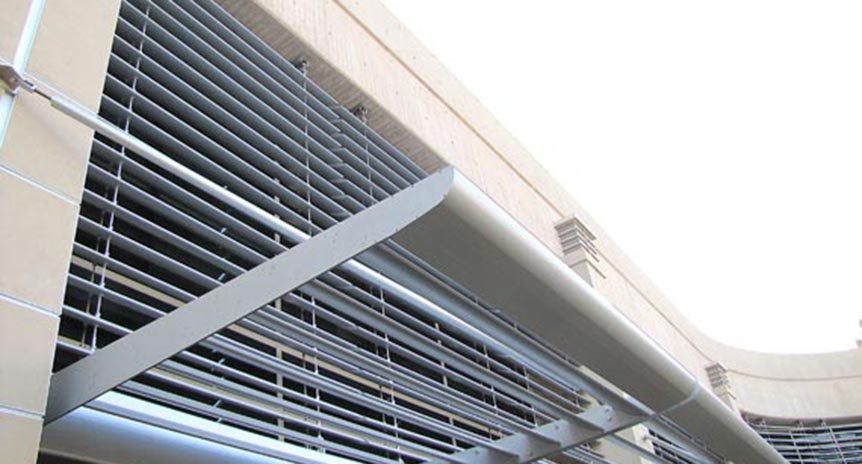 Product Advantages
| | |
| --- | --- |
| Sturdy, lightweight, and high chemical resistance, difficult to deform by external impacts | Aesthetic and diverse in design and color |
| Ability to reduce noise | Stability, colorfastness in water, oil, acid environments |
| Keep the interior cool in summer: Thanks to the feature of blocking external sunlight from entering the building, the entire interior system is kept cool during hot summer months | Fast construction time, long-term use from 5-10 years, especially during use, the color can be easily changed without affecting the quality of the project |
The structure of Aerofoil Sun Louver
Aerofoil Sun Louver system is composed of diamond-shaped profile bars that are both artistic and aerodynamic. They can be operated using hydraulic or manual systems, with the ability to span large distances of up to 6000mm and adjust the angle of sun shading. They can be installed horizontally or vertically.
Applications of Aerofoil Sun Louver
Aerofoil Sun Louver is used for: building facade (installed directly outside the glass facade, creating a shell for the building); roof louvers for lobbies and floors: office buildings, schools, hospitals, shopping centers, sports centers, airport terminals, banks, hotels, telecommunications centers.