VISION
MISSION
PEOPLE
FACTORY CAPACITY
RECOGNITION
CORPORATE CULTURE
Since its establishment, CAG has clearly defined its goal to become a leading consultancy in the field of design, production, and installation of aluminum and glass projects.
MISSION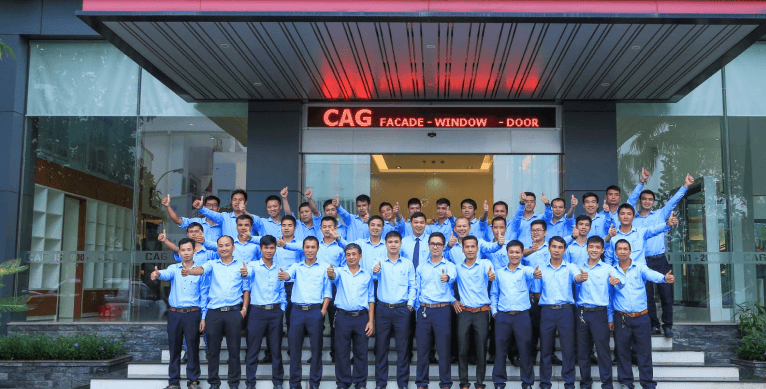 Our mission is to improve the living and working environment for everyone, both present and future generations. We provide our partners and customers with optimal design solutions, high-quality products, and services at reasonable costs. We prioritize the use of green materials and renewable energy solutions to protect the environment.
VISION
PEOPLE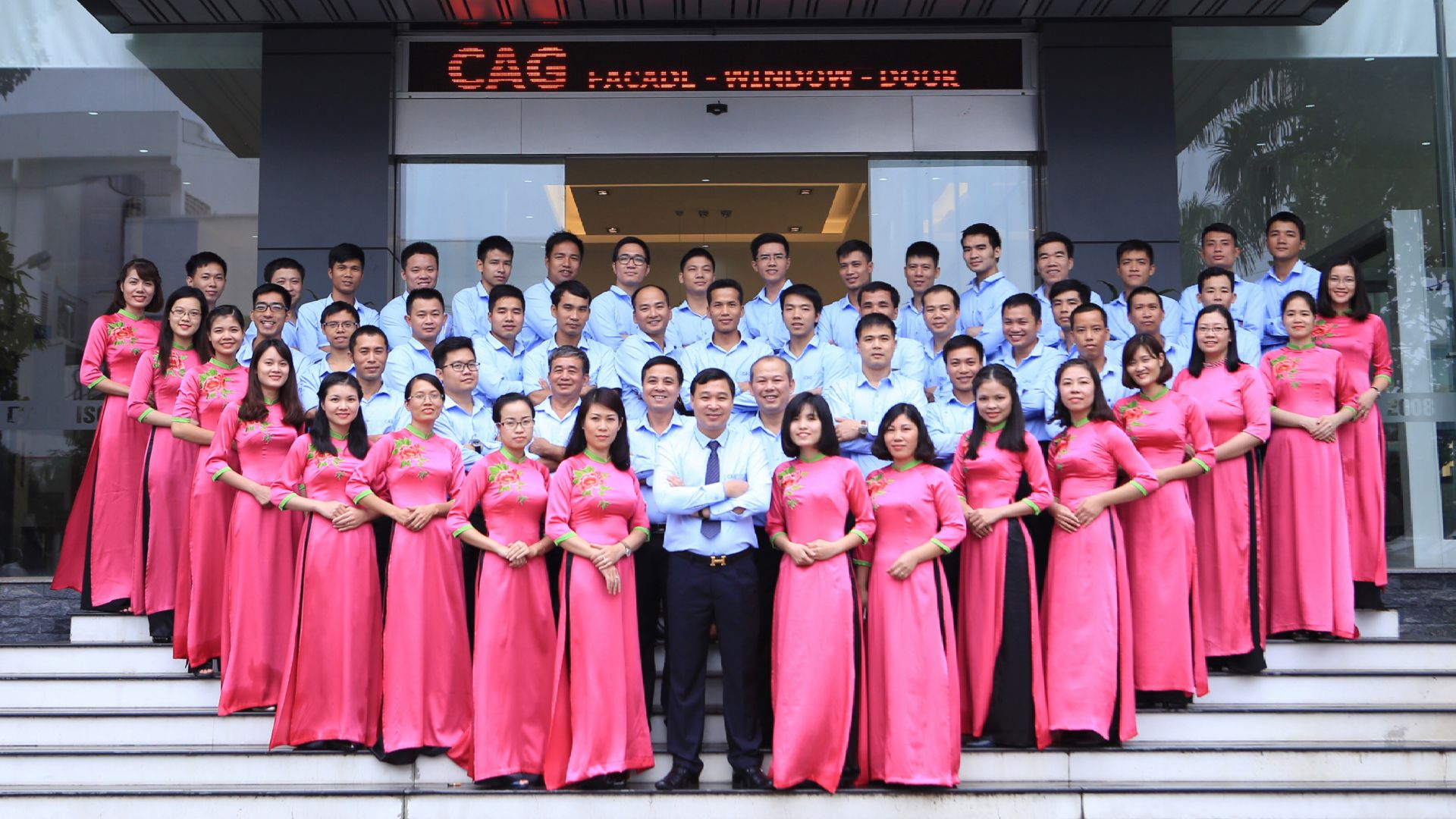 RESPECT - CREATIVITY - UNITY
MISSION
FACTORY CAPACITY
At CAG, we believe that human beings are the greatest internal strength of the company. Each member of CAG has the opportunity to develop their career with a clear direction. The ideal working environment here helps individuals assert their abilities and maximize their creativity. From there, we contribute to promoting CAG to become a leading consultancy in the field of design, production, and installation of aluminum and glass projects in Vietnam and the region.
Factory capacity With the goal of gradually modernizing, CAG's factory meets strict European and international standards to meet the company's development needs and have enough capacity to participate in large and high-standard technical, quality, and progress-demanding projects.
PEOPLE
RECOGNITION
Throughout its operations, CAG's factory focuses on core values such as: • Quality • Environmental protection • Health • Workplace safety Currently, CAG owns three high-capacity factories in Hanoi and Dong Nai with a total area of nearly 70,000m². The factory's production area operates under ISO 9001:2015 standards. Combined with the modern production lines of Elumatec (Germany) and Bystronic, CAG enhances its production capacity and makes breakthrough developments to expand its market. In addition, CAG focuses on applying green production solutions for sustainable development.
The continuous innovation and development of CAG ensures compliance with strict domestic and international standards, allowing us to maintain our competitive advantage. At the same time, we meet the prerequisite conditions for collaborating with partners and participating in large projects that demand high technical standards, quality, and progress.
FACTORY CAPACITY
CORPORATE CULTURE
Occupational Health and Security Management System Certificate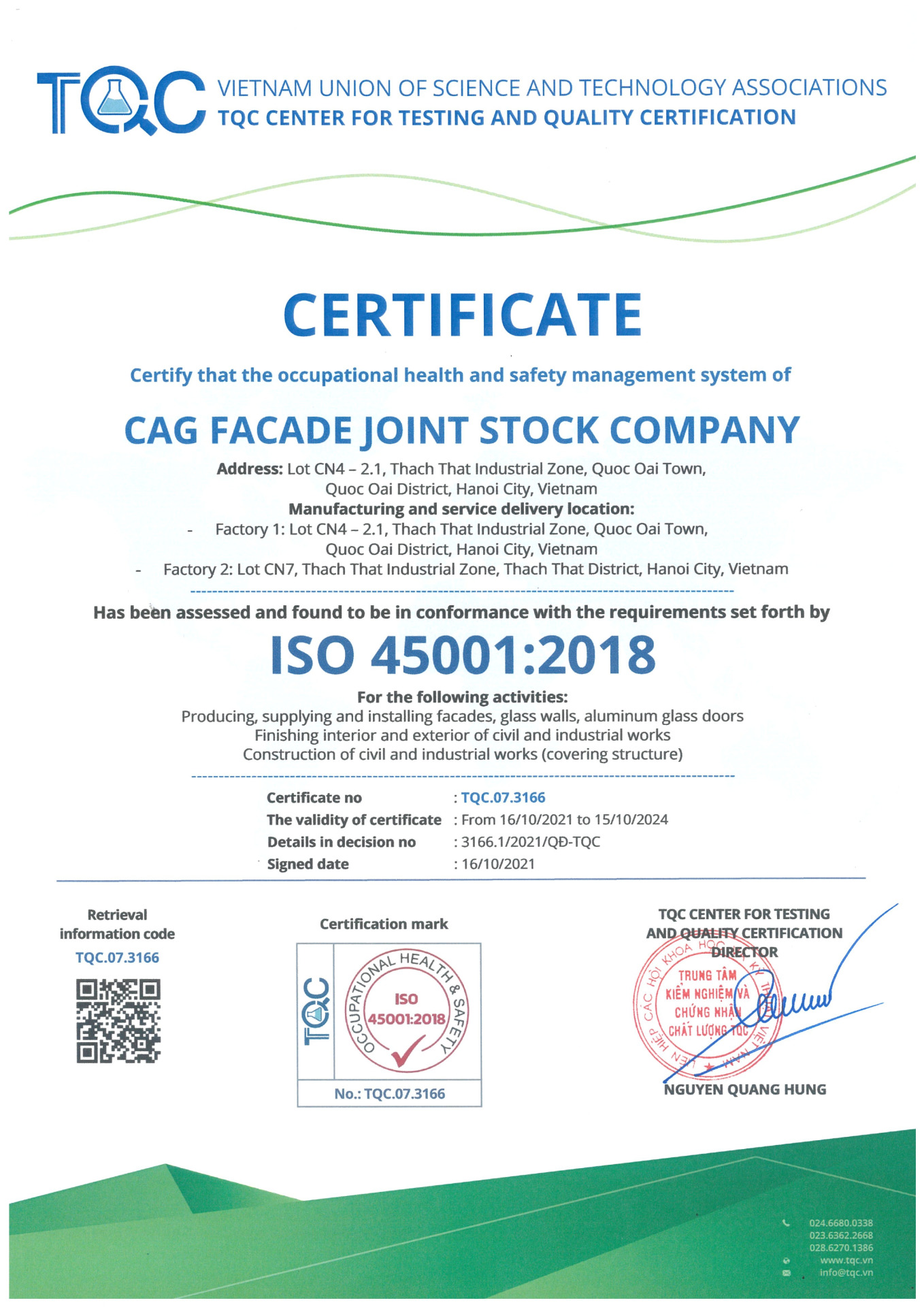 Environmental Management System Certificate - ISO 14001-2015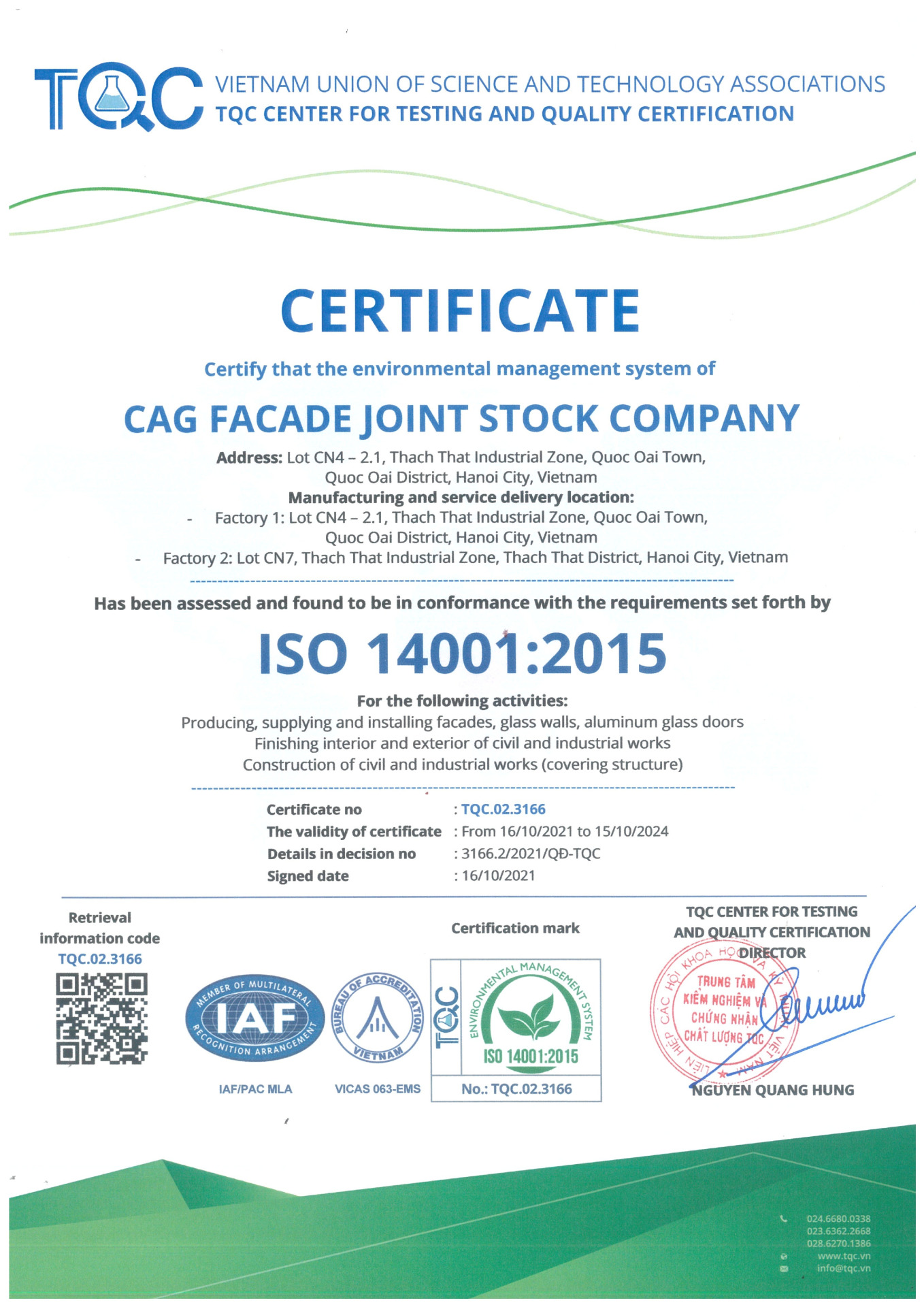 Quality Management System Certificate - ISO 9001-2015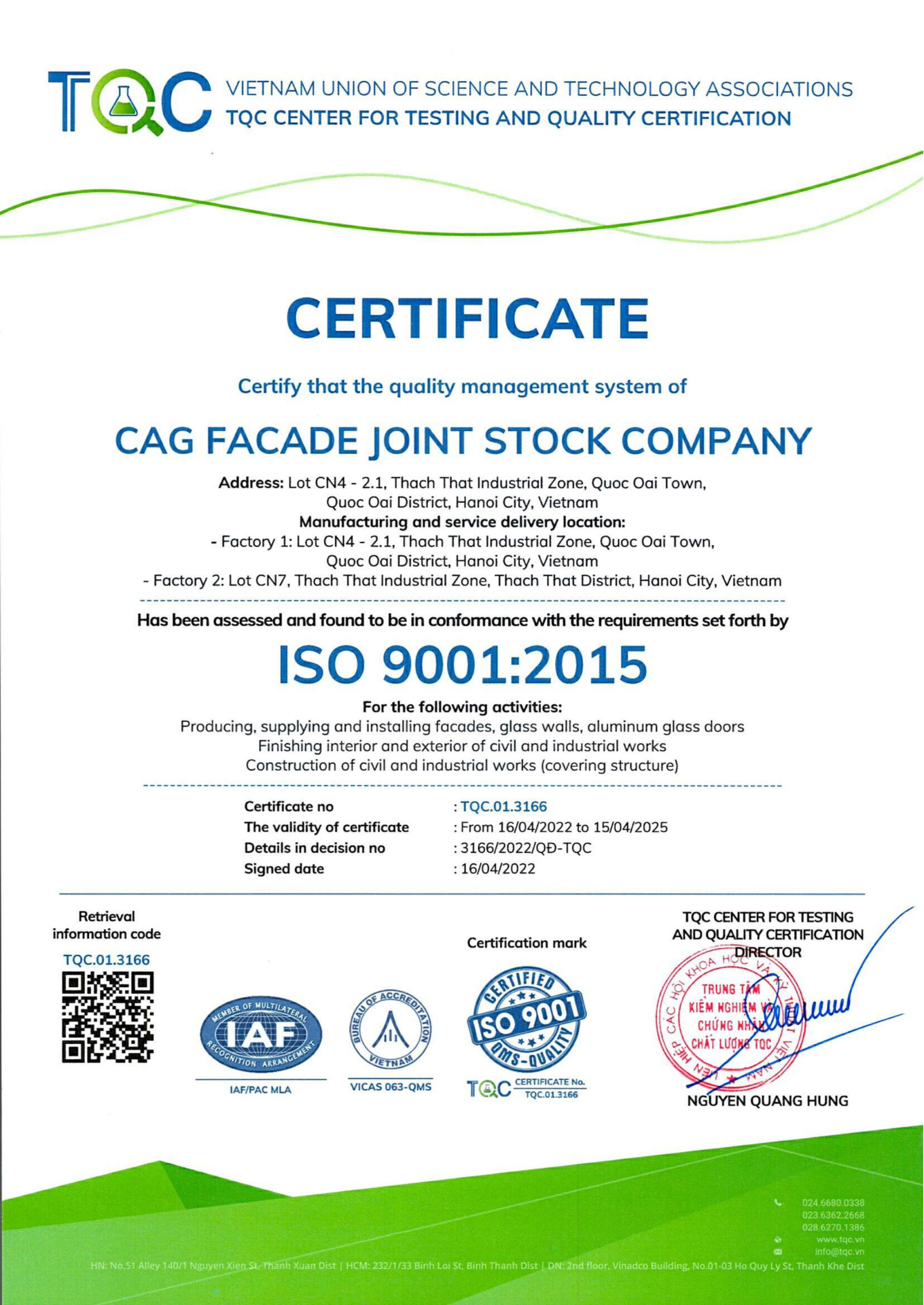 Construction Operational Capability Certificate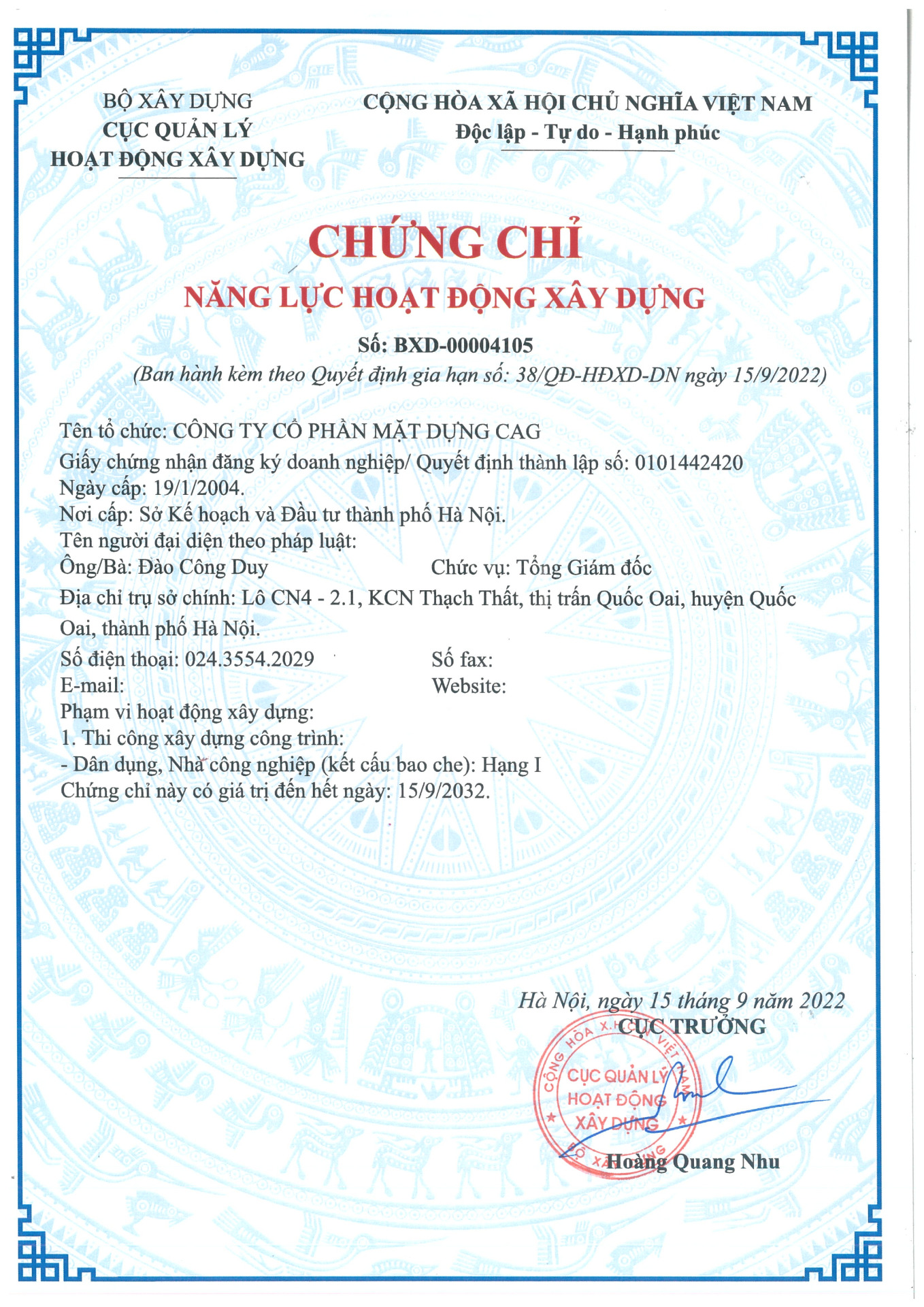 CAG believes that all employees are the most valuable asset to us. The success of CAG is built upon this inherent strength. Therefore, we always aim to create an ideal working environment for each member. UNITY towards a common development goal is the measure of the potential of CAG's development.
RECOGNITION